Locked
Engaged
,
/t5/muse-discussions/display-responsive-art-flush-in-browser/td-p/9571254
Jan 14, 2018
Jan 14, 2018
Copy link to clipboard
Copied

This is so basic, but I can't figure it out. Something about a fluid width on them both?
PHOTO 1) Photo is flush left and right, does not exceed live area (not exceeding live area I am told is important). Brown/tan band is the same.
PHOTO 2) Is how it displays in chrome browser. I just want brown/tan band flush to the photo so it's all nice and neat.
PHOTO 1

PHOTO 2 IN BROWSER, GOOD RESPONSIVE REFLOW ON BUTTONS
thanks.
* * * *
Community guidelines
Be kind and respectful, give credit to the original source of content, and search for duplicates before posting.
Learn more

1 Correct answer
anita1390 написал(а)

The problem is only the brown band below the main image, I used the rectangle tool and filled it. The main top photo is fine, I do not need it to fill browser width. I need the brown/tan to maintain the same width as the photo above it and have tried different resize options (see Photo 3 below).
Very simple. The first thing you have to do is install the image correctly. You must establish it within these boundaries.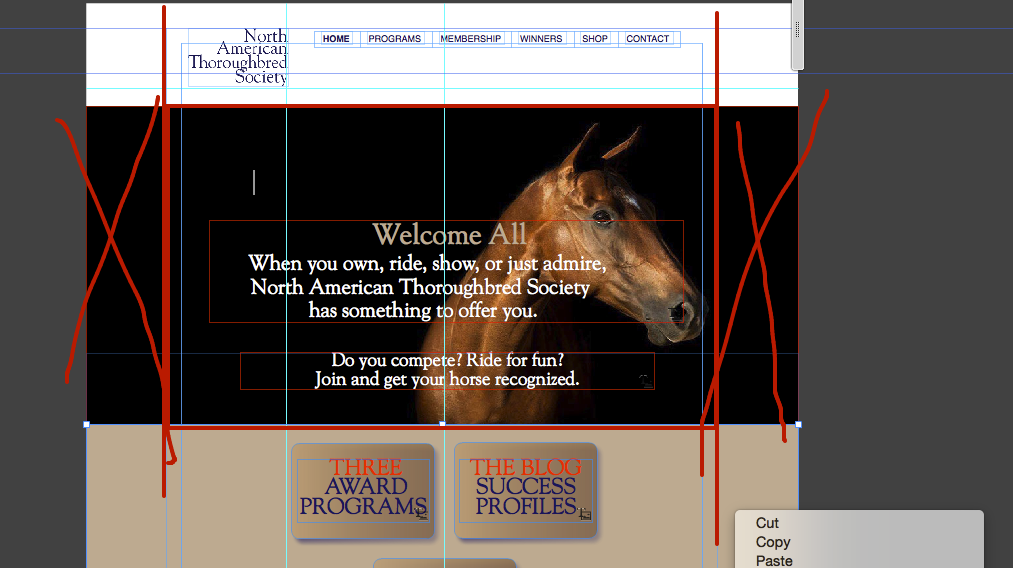 Secondly, delete the brown rectangle under the image and sim
...
Jump to answer
10 Replies
10