New Here
,
/t5/stock-contributors-discussions/i-cannot-find-my-picture-when-looking-for-it-in-adobe-stock/td-p/10349465
Feb 22, 2019
Feb 22, 2019
Copy link to clipboard
Copied
When I trying to find my picture which has been properly uploaded and approved the search system doesn't show it among results. I tried the searching with different sets of keywords (all used keywords are part of description for the picture). Nevertheless most attempts are not OK. Though some of them (very rare) show the picture.
I tried that for several pictures. Some of them have never been found.
For instance I cannot find this one (with keywords below in different combination):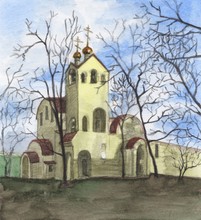 church russia fall watercolor chateau painting kremlin
Why it happens ?
Community guidelines
Be kind and respectful, give credit to the original source of content, and search for duplicates before posting.
Learn more

1 Correct answer
When you indexed the file you indicated that you were adding the keywords in German. However, when I checked it I see you actually used English keywords. I have changed the language selection to English. Try again soon with the relevant keywords and you should find it.-Mat
1

1 Like
Jump to answer
11 Replies
11