Not happy! Adobe Templates
Adobe Community Professional
,
/t5/stock/not-happy-adobe-templates/td-p/9604709
Dec 15, 2017
Dec 15, 2017
Copy link to clipboard
Copied
I Just got an email from Adobe advertising their templates to download from Adobe Stock.
The instructions on the template are not good at all.
I know it's a learning curve and shows beginners how to edit a partially formed poster.
But why are Adobe promoting designing posters in Photoshop (not that you can't but it's a beginner template)? The same email had a brochure design in Illustrator - which is fine, but a tri-fold brochure is better done in InDesign and Poster is better done in Illustrator or InDesign!
The instruction to save the file with live text as a TIF or PSD??? Placing this file into InDesign would output the text as raster! To ensure that live text, and vector shapes, vector masks output correctly the file should be saved as a PDF with correct settings. There's no mention of Smart Objects rasterising on output either! That is, placing this file in InDesign and blowing it up to 1000% would make the whole image rasterise on output to PDF at the effective resolution.
There's no size listed here - no resolution! If the image is to be made in Photoshop then it needs to be the finished size, with enough resolution for printing! Yet there's no mention of it here. This could be an A6 card - and someone will get it printead as A0? Then it will be completely and utterly pixelated!!!
The image is 8 x 10 inches... and 300 dpi - what if this person wanted to print this poster at 50 inches? Or a 200 inches?
It seems these templates with misleading instructions are breeding bad habits and are not really teaching anyone anything!
Please - please can something be done?
The main gripe here is Adobe promoting designing Posters in Photoshop - we've spent years educating our customers not to do that! YEARS!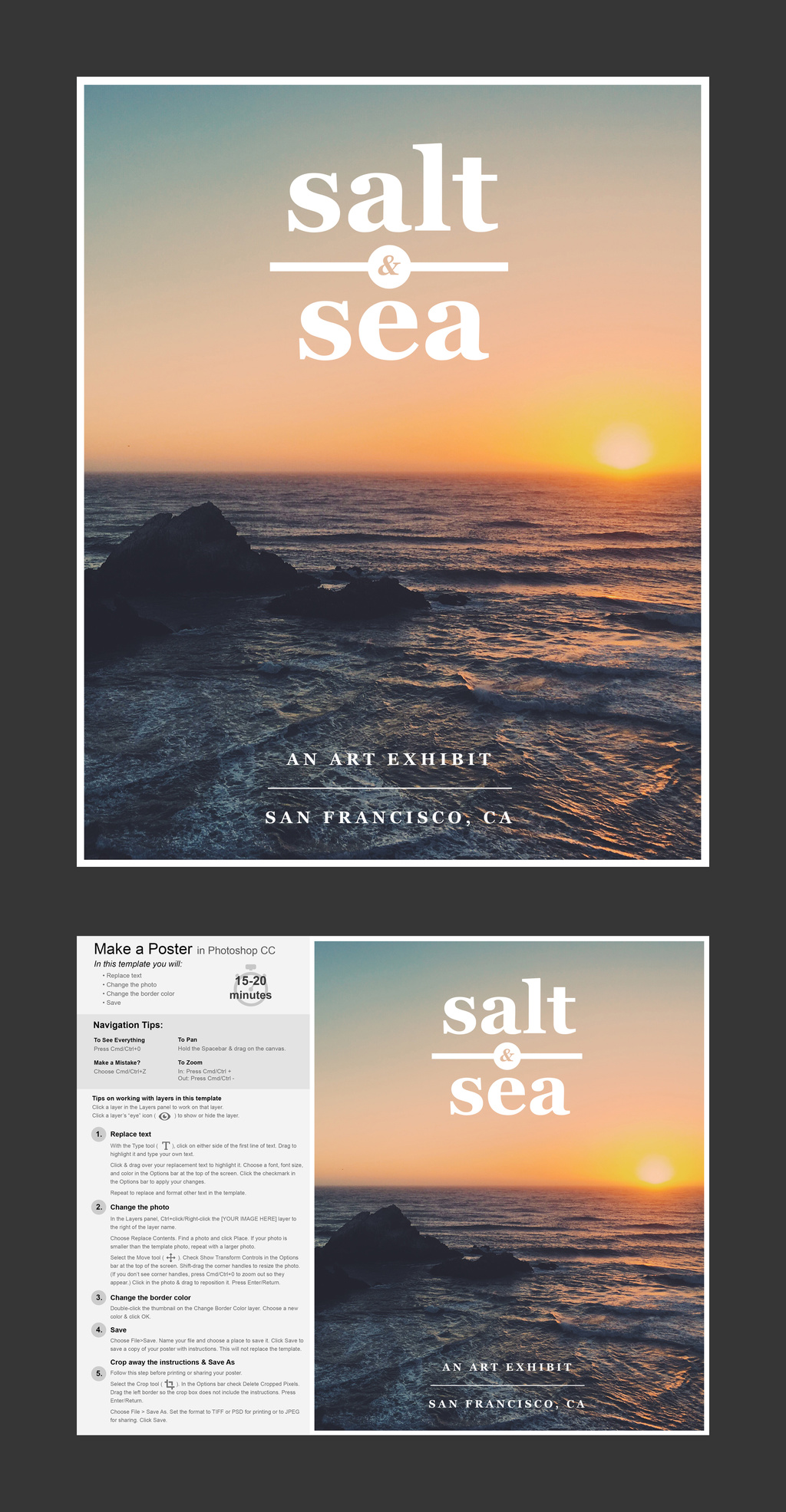 Community Guidelines
Be kind and respectful, give credit to the original source of content, and search for duplicates before posting.
Learn more
6 Replies
6