text in photoshop CC2018 in english but types as though right to left??
New Here
,
/t5/type-typography-discussions/text-in-photoshop-cc2018-in-english-but-types-as-though-right-to-left/td-p/10104057
Sep 20, 2018
Sep 20, 2018
Copy link to clipboard
Copied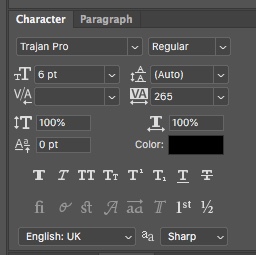 I have this problem and can't resolve it! When i'm putting text into a piece it types as though its right to left and commas fullstops appear in the wrong place. the language is english in photoshop. It's driving me nuts trying to sort this out and i have tried many things to no avail. Any ideas?? I just did a character reset and the numbers went into arabic! So, i'm feeling there's some kind of conflict??
Community guidelines
Be kind and respectful, give credit to the original source of content, and search for duplicates before posting.
Learn more
Have something to add?
Join the conversation