Acrobat DC - Turn off Mobile Link notifications
Explorer
,
/t5/acrobat-discussions/acrobat-dc-turn-off-mobile-link-notifications/td-p/7072285
Apr 10, 2015
Apr 10, 2015
Copy link to clipboard
Copied
The first time I opened Acrobat DC after upgrading, I didn't mind the Mobile Link notifications - after all, it was a new feature, I like knowing about new features.
But to pop up another notification every time I open a document is incredibly distracting and annoying.
This is overkill, and hides part of my document for about 7 seconds, with no obvious way to close the notification.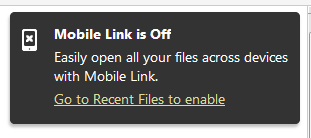 This small indicator is plenty to keep me informed that Mobile Link is off

Please make it so that large Mobile Link notification does not persist after I've already ignored it.
Community guidelines
Be kind and respectful, give credit to the original source of content, and search for duplicates before posting.
Learn more
35 Replies
35