New Here
,
/t5/acrobat-discussions/adobecollabsync-is-slowing-my-pc/td-p/10364457
Mar 06, 2019
Mar 06, 2019
Copy link to clipboard
Copied
Hi, got the Acrobat Pro subscription a while ago. Since I installed it, my computer became extremely slow.
I noticed that AdobeCollabSync spawns an extremely high number of processes: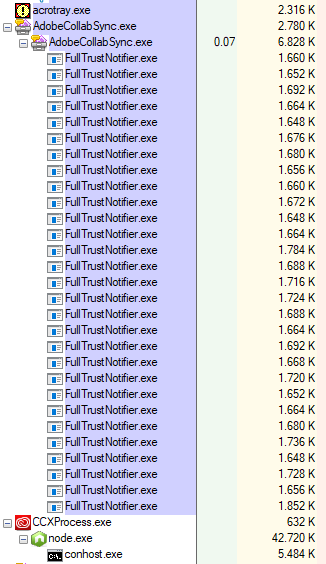 why? How could I avoid it? I don't need any sharing or collaboration, I work alone, and I don't use creative cloud file sync
There's a way to totally disable this? All apps are closed, yet that is running anyway.
Community guidelines
Be kind and respectful, give credit to the original source of content, and search for duplicates before posting.
Learn more

1 Correct answer
I deleted "C:\Program Files (x86)\Adobe\Acrobat DC\Acrobat\FullTrustNotifier.exe" and "C:\Program Files (x86)\Adobe\Acrobat DC\Acrobat\AdobeCollabSync.exe" and now i don't have this problem anymore
Acrobat seems to work fine without those two useless bloatware, hopefully my PC will be faster
Jump to answer
19 Replies
19