New Here
,
/t5/acrobat-reader-discussions/error-1014-1014/td-p/9411019
Oct 13, 2017
Oct 13, 2017
Copy link to clipboard
Copied
Hi Everyone,
I have a case where a customer is on a Windows Server 2012 R2 terminal server. With Adobe Acrobat and Reader is installed. And when the customer tries to open a PDF file from there bank and want it to open in Internet Explorer (version: 11.0.9600.18817) I get this message: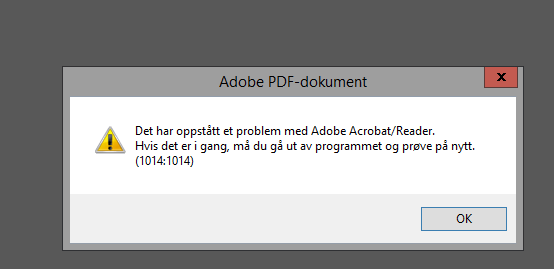 Translated: There has been a problem with Adobe Acrobat / Reader. If it's running, get out of the program and try again. (1014: 1014)
It works if you log into the bank via Google Chrome...
I have tried to repair the install and see after new updates on Reader but same issue. I have not tried to reinstall the program since it's a terminal server I have to do it at night when no one is using Reader.
Thanks in advance for any help
Kind regard
Anders Guldbrandsen
General troubleshooting
,
Windows
Community guidelines
Be kind and respectful, give credit to the original source of content, and search for duplicates before posting.
Learn more
4 Replies
4