I'm fighting with this the whole day and I can't seem to get it to have the same value for left-right margins.
Every time I change the value in "Linked margins" it switches to "Different margins" with different left and right values.
And what's even more interesting is that I can set the Linked margins to 100px but can't do the same for 101px or 101.5px (what I need).
I think it might happen because "Gutter width" option is never changing according to the margins I'm trying to setup (unlike Column width).
Screenshot of what happens when I setup 101px on Linked margins (XD switches to different margins by itself):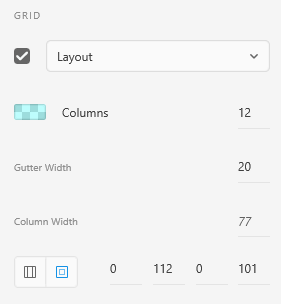 Can anyone help?
Community guidelines
Be kind and respectful, give credit to the original source of content, and search for duplicates before posting.
Learn more

1 Correct answer
You're correct that there's currently no way to do that. Here's how it currently works:When you create a new artboard, the Layout Grid is given the default Number of Columns, Gutter Width, and Margins. Then Column Width is calculated and rounded to nearest integer. Finally, the Margins are adjusted to make Layout Grid values add up to artboard width.Randy
0

Like
Jump to answer
8 Replies
8