Contributor
,
/t5/after-effects-discussions/after-effects-2017-won-t-batch-replace/td-p/8838638
Jan 04, 2017
Jan 04, 2017
Copy link to clipboard
Copied
In all previous versions of After Effects (before 2017) when you had a bin of files that were offline, you could just replace the first one with a new location and as long as there were other files there with the same format and name, After Effects would automatically replace them all.
AE CC 2015: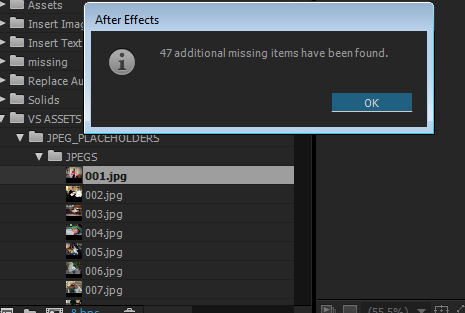 But I just tried this in AE 2017 and it replaced the only ONE file and didn't replace the rest as it used to. Is there a setting I don't know about?
AE 2017:
Community guidelines
Be kind and respectful, give credit to the original source of content, and search for duplicates before posting.
Learn more

1 Correct answer
Thank you. Yes, I see now this is a bug. it appears the new Jpeg importer is causing this. about it here: Re: AE CC 2017 - BIG Bug interpreting the FPS of the sequence of images
notice the old project is successfully imported as jpegs
and the new is imported as Jpegimporter
I thought the workaround would be to change the format type to Jpeg instead importerJpeg when replacing
But No. does not work.
please file a bug report and link to this thread. I will do the same:
0

Like
Jump to answer
10 Replies
10