Bug: Text properties label visible in AE exported mogrt in EG-panel in Premiere Pro
Participant
,
/t5/after-effects-discussions/bug-text-properties-label-visible-in-ae-exported-mogrt-in-eg-panel-in-premiere-pro/td-p/10357486
Mar 05, 2019
Mar 05, 2019
Copy link to clipboard
Copied
Hello,
I've notices that the label "text properties" is often visible in the Essential Graphics-panel in Premiere Pro after export from After Effects.
E.g., in this case, I've created a text box, some sliders and comments for this mogrt, and inside the first slider, you can see "text properties".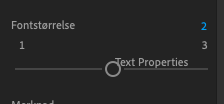 Is there a way to remove this?
Community guidelines
Be kind and respectful, give credit to the original source of content, and search for duplicates before posting.
Learn more
11 Replies
11