New Here
,
/t5/bridge-discussions/bridge-cc-2017-pc-unable-to-open-camera-raw-with-button-or-right-click-menu/td-p/8767033
Nov 26, 2016
Nov 26, 2016
Copy link to clipboard
Copied
When I select an image (RAW, JPG TIF, etc) in Bridge and then click on the 'Open in Camera Raw' icon or right click and select 'Open in Camera Raw' I get the error dialog box saying: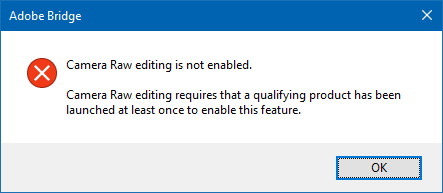 Yet when I double click on a RAW file Photoshop CC 2017 is started and the image does open up in Camera Raw.
I also get the above dialog box when I go "Edit->Camera Raw Preferences..."
Is there a fix for this??
Community guidelines
Be kind and respectful, give credit to the original source of content, and search for duplicates before posting.
Learn more

1 Correct answer
I found my solution. something strange had happened in installing. completely deleted folder and reinstalled. i think some of 2015.5 had upset the install.
0

Like
Jump to answer
4 Replies
4