Enthusiast
,
/t5/captivate-discussions/dialog-appears-when-launching-captivate-8/td-p/6173972
May 28, 2014
May 28, 2014
Copy link to clipboard
Copied
Each time I launch Captivate 8, the following dialog box appears and I have to click Allow Access. This never happened in previous versions. Is there a way to stop this dialog from appearing?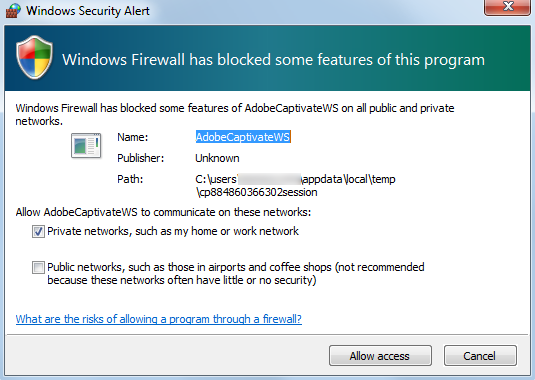 Community guidelines
Be kind and respectful, give credit to the original source of content, and search for duplicates before posting.
Learn more

1 Correct answer
HiIt is listed as a known issue here.
Top issues | Adobe Captivate 8
Solution they provide is that you need to allow access in your firewall settings.Sreekanth
0

Like
Jump to answer
4 Replies
4