CC Files: creating duplicates of "Creative Cloud Files (archived)" to synced drive
Participant
,
/t5/creative-cloud-services-discussions/cc-files-creating-duplicates-of-quot-creative-cloud-files-archived-quot-to-synced-drive/td-p/10178221
Oct 29, 2018
Oct 29, 2018
Copy link to clipboard
Copied
I have been experiencing some issues with CC Files, where apparently, the drive I have allocated to sync our CC Files has been replicating itself to the point where now I have one original and 4 copies "Creative Cloud Files (archived) (4)" see below. Working on Mac Pro (late 2013) Mojave v10.14
CC will not let me quit the app at all and if I do a manual shut down when I reboot it starts a new (archived) (?) folder and I fear this will continue until resolved, making it extremely difficult to work on anything at this point.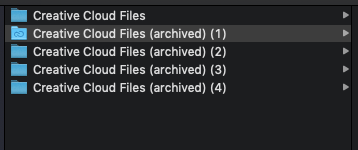 I somehow have 2 Adobe Creative Cloud Files listed in Finder, not sure how these were created as I was not the initial person to set these up.
Looks like one is synced to my hard drive and the other is to an external drive, the plan was to only have the files synced to the external drive. This is also causing my hard drive to max out of space while sending alert notifications over and over about not being able to copy/sync files. I'm still not sure why it keeps making the duplicates to the external drive.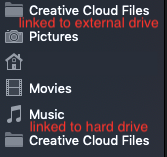 ---- Any assistance would be GREATLY APPRECIATED!!!
Community guidelines
Be kind and respectful, give credit to the original source of content, and search for duplicates before posting.
Learn more
Have something to add?
Join the conversation