Adobe Digital Editions - E_ACT_NOT_READY & Account Authorization Issue
New Here
,
/t5/digital-editions-discussions/adobe-digital-editions-e-act-not-ready-account-authorization-issue/td-p/9878595
Apr 14, 2018
Apr 14, 2018
Copy link to clipboard
Copied
I have a very complicated issue relating to the "E_ACT_NOT_READY" error message. I am trying to download ebooks via Overdrive, open them in ADE, and then put them onto my Kobo. Unfortunately, it seems that I can't fix this error without deauthorizing first my account on ADE and then reauthorizing it.
When I set up my Adobe account I used a university email, which is now no longer active. I therefore can't check any verification emails sent to me by Adobe. I do remember the password I used to set up the Adobe account with this university email, and I can login to the Adobe website just fine but for some reason when I try to deauthorize the university email on ADE using the exact same password it doesn't work and tells me to try again later.
I set up a new account to use for Adobe (this one), but I can't authorize this one on ADE until I deauthorize the other one. I have also tried deleting ADE entirely and redownloading it, but my old authorized email still shows up.
I chatted with Adobe tech support for several hours tonight, and they were not able to help me. At this point, I am ready to give up using ADE forever and buy a new Kobo that has Overdrive built in.
I can't even post about this issue on Adobe forums using the old account login, again because I can't check the verification email sent to that address, as it is no longer active. I would like to delete the old account entirely and just use the new one, and then hopefully be able to load my ebooks easily.
Is there any other way to fix these problems? I'm very frustrated that this issue has gotten so complicated.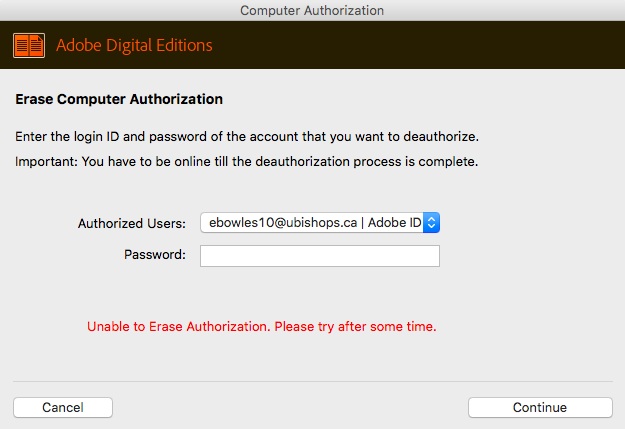 Community guidelines
Be kind and respectful, give credit to the original source of content, and search for duplicates before posting.
Learn more
Have something to add?
Join the conversation