Explorer
,
/t5/download-install-discussions/all-cc-applications-stuck-at-screen-with-spinning-blue-circle/td-p/10167297
Nov 01, 2018
Nov 01, 2018
Copy link to clipboard
Copied
I see the below screen upon opening every CC application (Lightroom Classic, Photoshop, Illustrator, InDesign, Premiere) EXCEPT Acrobat DC. It hangs on this screen and just repeatedly tries to refresh and cannot. It just shifts from being a blank white window to the below for second or two. If I close out of the window it closes the software as well.
Windows 10 Pro v 1803
Brand new computer, fresh install of Windows per a domain deployment
Other computers on the domain are not doing this
Other computers on the same network are not doing this
Other computers with the same domain-controlled antivirus are not doing this
I am the system administrator for the domain and I see all cases of block traffic for the antivirus software, it is not blocking Adobe from connecting
I have already tried:
Logging out/back in to Creative Cloud
Switching from public to private network type
Checking for updates
Trying to install previous versions
Removing preferences
Trying as a different administrator (so two separate administrator accounts, neither work)
Deleting the OOBE folder
Changing the amount of memory for Adobe applications in the registry (and deleting this DWord value after it didn't change anything)
Repairing Adobe Creative Cloud
Repairing each application
Uninstalling each application and Adobe Creative Cloud
Using the Adobe Creative Cloud Cleaner Utility
Restarting the computer
Reinstalling Adobe Create Cloud
Reinstalling each software
I don't know what the below screen is supposed to show, but I am guessing it is a terms and conditions or agreement because this is the very first time I am opening any of these apps on this new computer. The only software this screen does not appear for is Acrobat DC, which opens totally fine. I can also open Adobe Creative Cloud just fine, and I installed these applications using Adobe CC.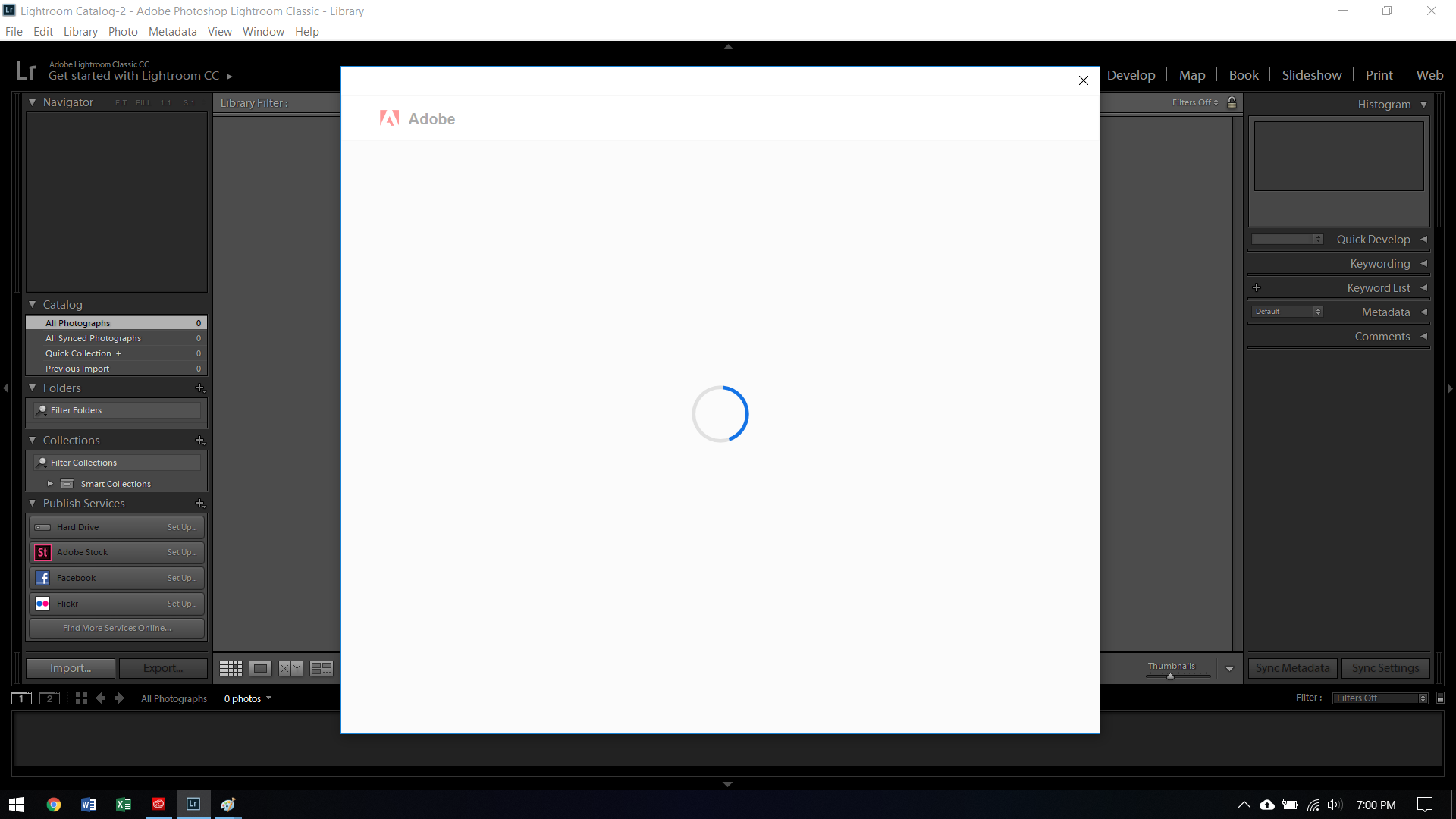 Any assistance with what might be causing this for every software except Acrobat is highly appreciated!
Creative Cloud,
Installation
Community guidelines
Be kind and respectful, give credit to the original source of content, and search for duplicates before posting.
Learn more

1 Correct answer
This is what finally worked for me:Go to the IE browser " advanced settings", uncheck "Do not save encrypted pages to disk".This was set on a company group policy and the group policy had to be removed. This is extremely unfortunate because it opens up a security issue in Internet Explorer that our sysadmins were not comfortable with, so if you are on a company computer, this may not be possible for you depending on their security requirements.
0

Like
Jump to answer
49 Replies
49