Installing Creative Cloud app with Parallels on Mac
Adobe Community Professional
,
/t5/download-install-discussions/installing-creative-cloud-app-with-parallels-on-mac/td-p/10452961
Mar 18, 2019
Mar 18, 2019
Copy link to clipboard
Copied
Hi
I have only been using Adobe software for 30 years, but I am stumped on this one.
I am trying to install only the Creative Cloud app on Windows, which I run through Parallels on my iMac. I am getting a message saying the installer can't be run from a network drive, and sure enough, when I look in the Windows File Explorer, the location is > Network > Mac > Home > Downloads.
This is not an office network. It's something that Parallels is doing on a single computer. Office 365 installed without a hitch.
Hardware: iMac (Retina 5K, 27-inch, 2017)
OSX: High Sierra 10.13.6
Windows 10.1809
Parallels 14.0.1-45154
I need to be able to either:
Install the CC app through a "network" or
Find a way to move the installer to a non-network location (I tried Desktop) or
Another solution?
Here are my screen shots: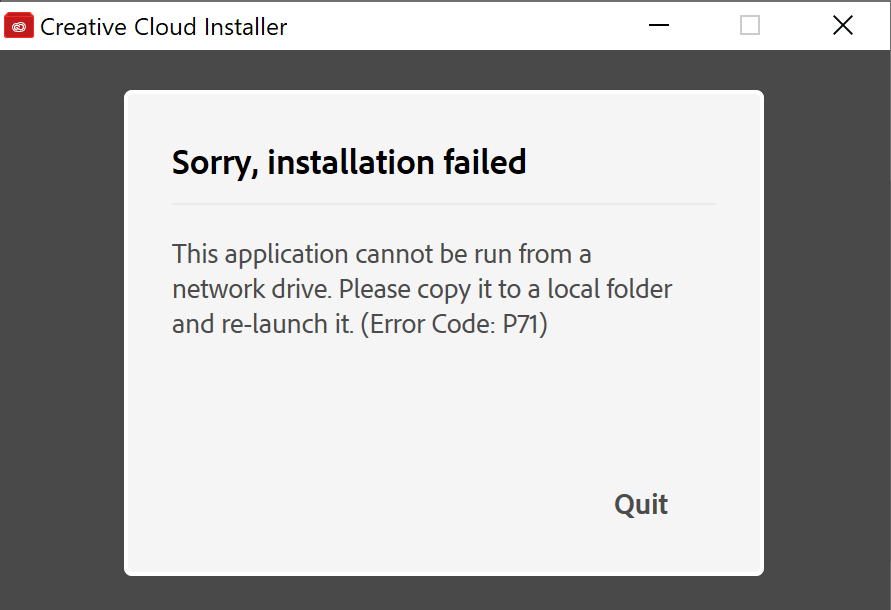 ~ Jane
ACP on the forums
Adobe Certified Instructor: InDesign, Illustrator, Acrobat
Community guidelines
Be kind and respectful, give credit to the original source of content, and search for duplicates before posting.
Learn more
13 Replies
13