Locked
New Here
,
/t5/download-install-discussions/updating-adobe-creative-cloud-stuck-at-39/td-p/10457210
Apr 26, 2019
Apr 26, 2019
Copy link to clipboard
Copied
Good afternoon,
I recently had to get my computer re-imaged and after two days, my Adobe Creative Cloud apps are the only ones I still can't get to install. I downloaded the Adobe Creative Cloud app and installed it without issue. However, when I opened it and logged in, I get a message that 8 apps need to be updated. Before the Apps can update, the Creative Cloud app starts updating, and gets as far as 39% before becoming stuck there. I have tried the following to resolve this myself:
I ran the Creative Cloud Cleaner Tool, both as myself and as the administrator.
I removed Adobe Creative Cloud and reinstalled. I did this twice - the second time I reinstalled, I tried running the installer as administrator.
I have restarted my computer numerous times.
I removed Creative Cloud from the Windows startup options, paused file syncing, told it not to automatically update the apps, and tried restarting the computer once more. This time, I opened it manually and when straight to "Check for Updates."
None of these resolved the issue. It's still stuck in the same place: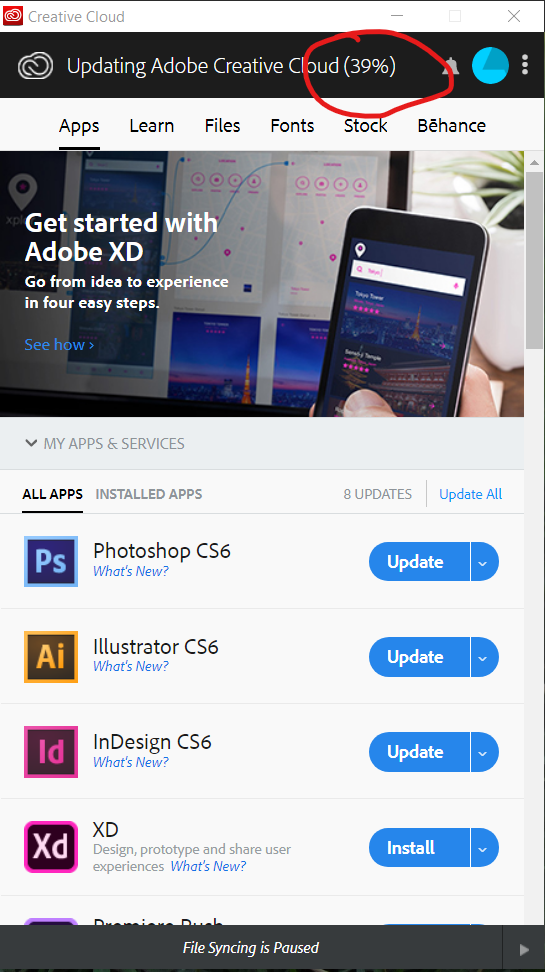 I am about to uninstall it and decide that I'm not using any of these apps any longer. Does ANYONE have any ideas how to resolve this that I have not already tried? Isn't there ANYONE at Adobe who can assist me with this?
Thanks,
Julia Allen
Community guidelines
Be kind and respectful, give credit to the original source of content, and search for duplicates before posting.
Learn more

1 Correct answer
1

1 Like
Jump to answer
19 Replies
19