Locked
New Here
,
/t5/flash-player-discussions/flash-player-settings-frozen/td-p/3546438
Jul 21, 2011
Jul 21, 2011
Copy link to clipboard
Copied
Hello
I can't use my webcam nor my microphone on webchats.
They work well on iChat, Skype, PhotoBooth, etc.
I can't click on Allow or Deny nor close the window.
I'm using the new MAC OS X LION and I tried on Safari, Firefox and Google Chrome.
Here is a screen picture (in French)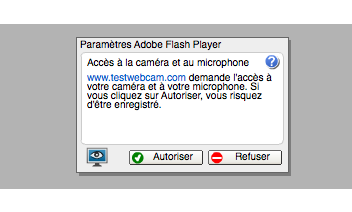 Please, HELP ME!!!!!!! I've been trying to solve this for 9 hours !!!!
Community guidelines
Be kind and respectful, give credit to the original source of content, and search for duplicates before posting.
Learn more

1 Correct answer
I put together a short video that walks you through the process of using Flash Player's native control panel and the camera and microphone settings. Hopefully it helps out.
http://forums.adobe.com/thread/880967
Chris
0

Like
Jump to answer
9 Replies
9