Gesperrt
Neu hier
,
/t5/flash-player-discussions/how-do-i-uninstall-flash-player-silently-using-command-line/td-p/7312932
Jul 01, 2015
Jul 01, 2015
Link in Zwischenablage kopieren
Kopiert
I have hundreds of Windows 7 machines that I want to uninstall Adobe Flash Player silently, without the user intervention. I read several forums , saying use the -silent switch with uninstall_flash_player.exe in a command prompt, but it doesn't work. If I go to C:\Windows\System32\Macromed\Flash and run the file FlashUtil64_18_0_0_194_ActiveX, it comes with the following message: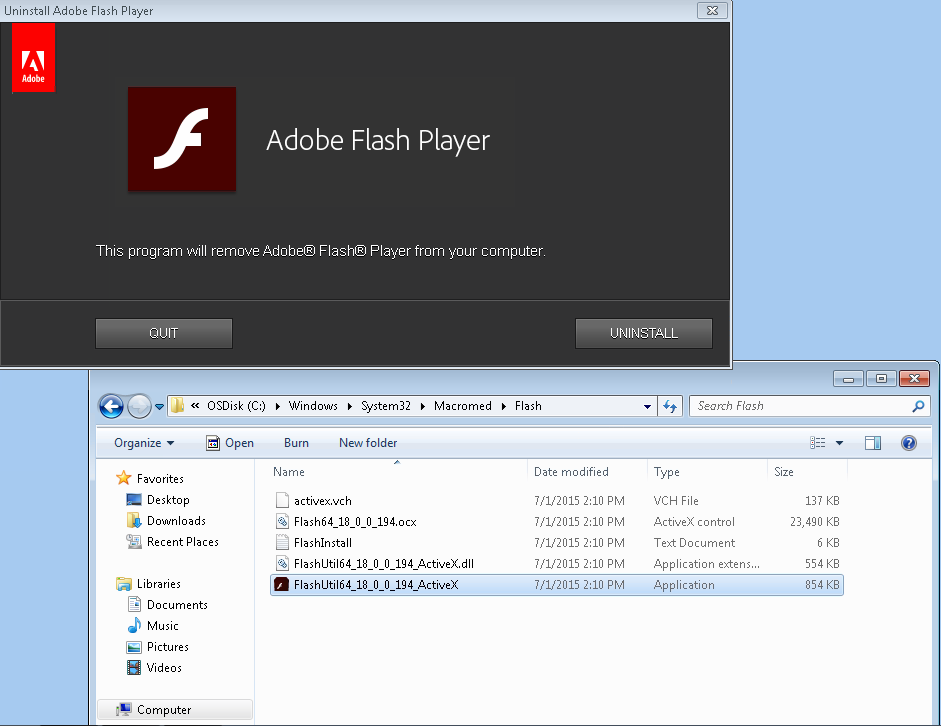 If anyone had done the silent uninstall before and ready to pass that knowledge, it is greatly appreciated!
Community-Richtlinien
Seien Sie freundlich und respektvoll, geben Sie die ursprüngliche Quelle der Inhalte an und suchen Sie vor dem Absenden Ihres Beitrags nach Duplikaten.
Weitere Informationen

1 richtige Antwort
The way i do it is grab this file:
http://download.macromedia.com/get/flashplayer/current/support/uninstall_flash_player.exe
then open a cmd window in the location of the file and do the following:
uninstall_flash_player.exe -uninstall
That works 100% of the time for me. The uninstaller Adobe offers is really nice, unlike java where you have to run a complicated wmic cmd to remove it.
Hope it helps ya?
by the way that will remove ANY flash player from your machine.
also specifically for that one it is
...
Zur Antwort springen
6 Antworten
6