Deleted Global Colors/[HUH?] error/Unused Brushes Keep Returning
Adobe Community Professional
,
/t5/illustrator-discussions/deleted-global-colors-huh-error-unused-brushes-keep-returning/td-p/2922841
Sep 02, 2010
Sep 02, 2010
Copy link to clipboard
Copied
On Mac AI4 I inherited files, that have 1000s of duplicate brushes in the library. Any copying is slow and pasting between documents fills the swatches palette with 1000s of Deleted Global Colors and brushes. The files are excessively large, slow and any copying is really slow. Can't load CS5 trial here at work(to try out that new cleanup command). This problem has been on the forums before (MAC/PC/CS3/CS4), but has not been solved. I started this as a new thread, as this problem is spreading out of control on other files.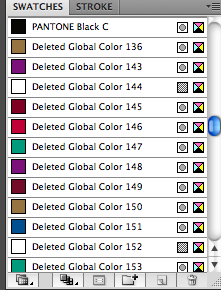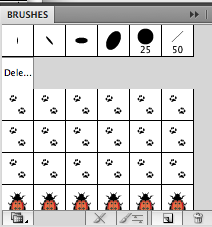 Here is what I have tried so far that has not worked (as the files are slow/crashing and the brushes keep coming back)
Recovered the file using 'Content Recovery Mode = 1". Edited this in simpletext to remove all code that has "Deleted global colors" & the "Begin PluginObject: Object". There was lots of junk to remove and I got

everything

in between the open & close tags.
Saved files as AI3
Copied & Pasted all elements into a new document
Removed all unused Brushes, Swatches, Graphic Styles
Deleted all layers/objects & did a save as, and the file is still 6mb.
The "deleted global colors"(see images below) problem has gotten better since cleaning up the code. The problem must lie in in the non-standard characters of the code, as I used search to flush out all items with "Deleted global" and "BeginPlugInObject" between start and ends tags. I also am getting the HUH error(see images below) when saving.

HELLp
Community guidelines
Be kind and respectful, give credit to the original source of content, and search for duplicates before posting.
Learn more
65 Replies
65