Illustrator randomly changing my file's colours while file is open.
New Here
,
/t5/illustrator-discussions/illustrator-randomly-changing-my-file-s-colours-while-file-is-open/td-p/10113279
Sep 20, 2018
Sep 20, 2018
Copy link to clipboard
Copied
Hey everyone, I've been having this problem for a while now that I cannot find any information online about it.
For some reason Illustrator will change the colours of an opened file at some random point while I have the file open and everything within the file will look like it's washed out or has some sort of grey overlay over it. Sometimes it'll only do it once a week or so, and sometimes the colour change is not as bad as other times, but it's still brutally annoying when I'm trying to export a file for a client. It's not just the swatches either, photos will become washed out as well.
It isn't an RGB vs CMYK file issue as that setting never changes, this is happening while I'm in the middle of editing the file, adding text, drawing a box etc. I mostly am working on RGB files, and the file will never change from RGB.
Illustrator will say the colour values are identical after the colour change but they obviously are not. When I do change the colour mode over the file ends up looking even more grey and washed out than before. The file will fix itself once I close out of the file, shut down Illustrator and open it back up again, but I don't want to have to do this every single time it happens, as I can't predict when it does.
At first I thought it might just be my display glitching out, but if save the file as a PDF while the colours are washed out, it will appear like that in the PDF, and will stay that way permanently. If I reopen and export the AI file to a PDF when the colours are normal then the PDF will have the normal colours. But illustrator says they are using the exact same colours and colourmodes, I've added a comparison photo in this discussion. You'll notice the colours are way less saturated in the pizza, and when using the eyedropper tool in photoshop, the green and black text show up as slightly different values.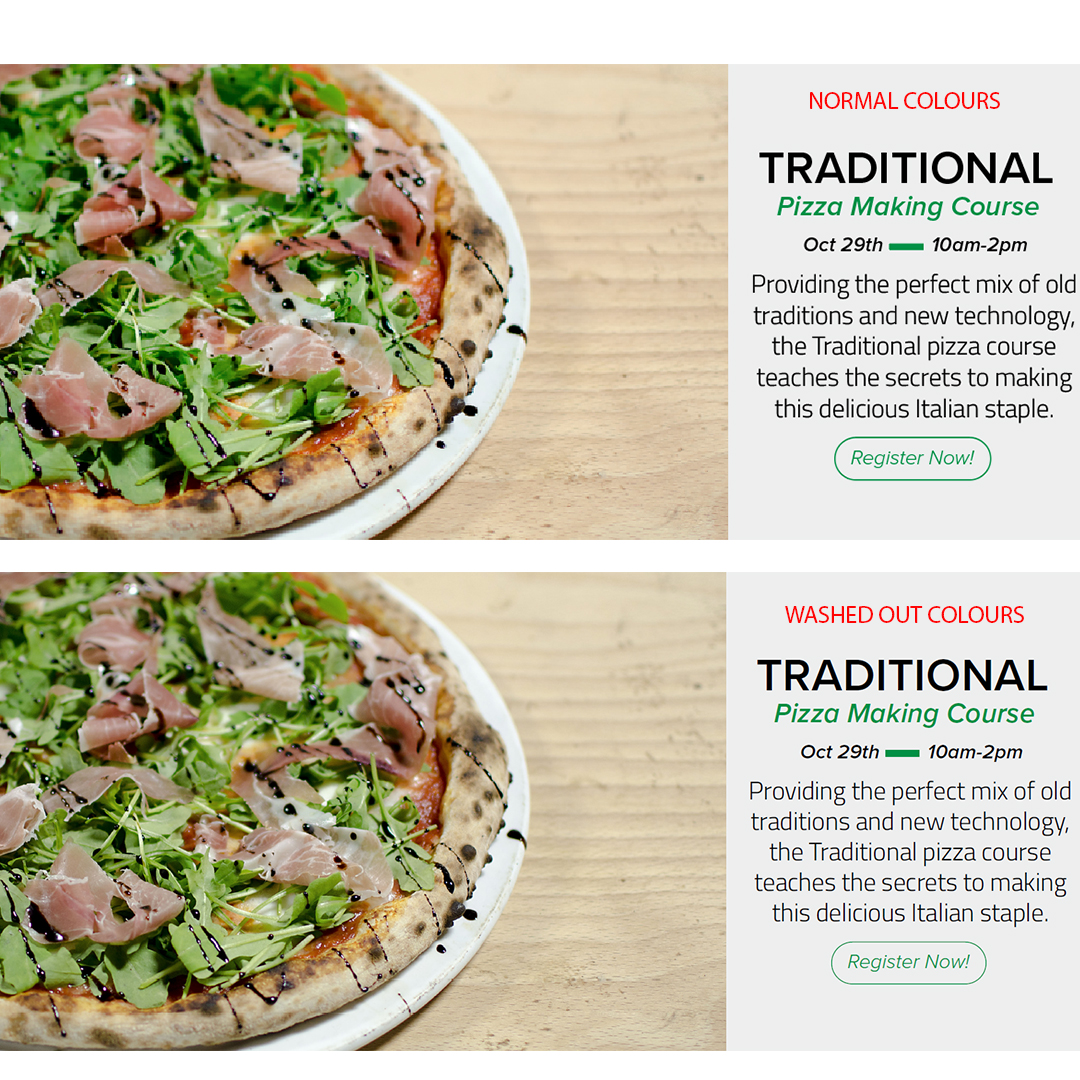 Does anyone know what is causing this issue? or why? and how to fix it?
Thanks,
Justin
Community guidelines
Be kind and respectful, give credit to the original source of content, and search for duplicates before posting.
Learn more
43 Replies
43