Entdecker
,
/t5/indesign-discussions/active-page-vs-selected-page/td-p/8776559
Jan 10, 2017
Jan 10, 2017
Link in Zwischenablage kopieren
Kopiert
Hello to everyone!
I'm trying to find a way to get a reference to a page that is selected in Pages panel but not necessary is active one.
If I understand this correctly in the below example pages 2-3 are active even though page 4 is selected.
app.activeWindow.activePage - command will give reference to page number 2.
But what with page number 4? I can't find any method.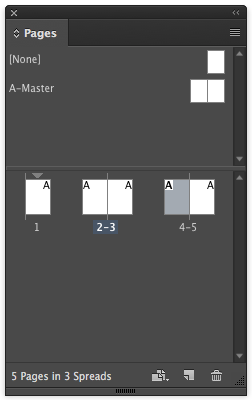 Thanks in advance,
jf
Community-Richtlinien
Seien Sie freundlich und respektvoll, geben Sie die ursprüngliche Quelle der Inhalte an und suchen Sie vor dem Absenden Ihres Beitrags nach Duplikaten.
Weitere Informationen

1 richtige Antwort
Hi together, below some code that is looking for active pages in the Pages panel where the property pageColor is exploited. Since pageColor cannot be applied individuallly on pages on a given masterSpread—all pages on a master spread are colored the same, if you apply pageColor to a single page, one cannot detect if a single page on a master is selected in the Pages panel. However, for selected document pages the function is working as it should. Notes and some important issues: 1. The cod...
2

2 Likes
Zur Antwort springen
15 Antworten
15