Explorer
,
/t5/indesign-discussions/cannot-place-xlsx-file-in-indesign/td-p/10396948
Mar 30, 2019
Mar 30, 2019
Copy link to clipboard
Copied
Trying to place a simple .xlsx file into InDesign and get the attached error message. What the heck?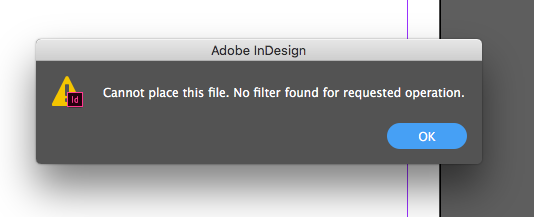 Community guidelines
Be kind and respectful, give credit to the original source of content, and search for duplicates before posting.
Learn more

1 Correct answer
I converted it to .csv using google docs just to see if maybe it was a problem with the .xlsx. It wouldn't even give me the option to place it. Weird thing that I'm using the same CC version on my Mac at work (well, I think it's the same version, anyway since we use CC) and it places .xlsx files created with Google docs just fine since I do it all the time at work. Not sure why the one at home doesn't work. Could it be the OS? Using High Sierra here at home and Mojave at work.UPDATE: I just trie...
1

1 Like
Jump to answer
15 Replies
15