Adobe Community Professional
,
/t5/indesign-discussions/google-file-stream-and-indesign-issues/td-p/9998366
Jul 18, 2018
Jul 18, 2018
Copy link to clipboard
Copied
Hello,
I work on a mac, and i have 4 co-workers working in windows also working in adobe indesign. Just recently ( past month) is happening more and more that i get the error below when trying to open a file. I have had to keep asking the people working in windows to make a legacy file. And than it all opens. Should i be concern about this? can, at some point, files not open at all and we all get this error window. What would i need to do if none of us can open the file?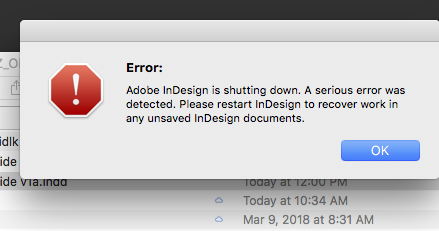 Also, we are all working from google file stream. one co-worker reports not been able to open indesign files at all. They need to move the entire folder to their local drive and than they can open them.
Next, when in illustrator, every time i save i get the error below. It saves the file. so the error is just a pop up that has not real effects on anything.

Last, I have also experience adobe acrobat freezing when opening .pdf files located in google file stream. And at some points i have to quit acrobat since is not responding every time i have to view a .pdf. I have installed and re-installed acrobat 3 times now.
everybody is on CC 2017 indesign.
Thanks
Jonathan
Community guidelines
Be kind and respectful, give credit to the original source of content, and search for duplicates before posting.
Learn more

1 Correct answer
1

1 Like
Jump to answer
10 Replies
10