Explorer
,
/t5/indesign-discussions/right-to-left-text-selection-with-cursor-keys/td-p/9575714
Jan 23, 2018
Jan 23, 2018
Copy link to clipboard
Copied
InDesign 2015, Windows 10, in Urdu (right to left) text, if I try to select a character or word using cursor key, it select to wrong direction, i.e. Shift + Left cursor key selects character on right, Preference>Right-to-Left>Cursor Control>Cursor Movement is already set to 'Visual' and it work well for cursor movement.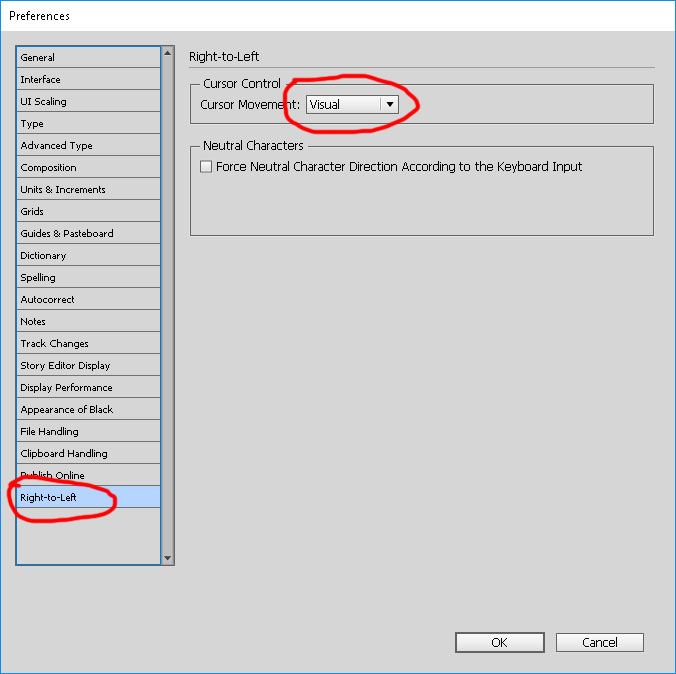 Edit: Just checked similar situation in Word 2016, there's no such problem, right to left text selection with cursor key working fine.
Community guidelines
Be kind and respectful, give credit to the original source of content, and search for duplicates before posting.
Learn more

1 Correct answer
Even though this bug is not Adobe's fault to start with, they inherited it from Winsoft time when Winsoft used to localize Adobe applications for many years. However this is still a bug and it's about time we take it to Adobe through proper channels unlike previous times when we spoke about it verbally to Adobe staff.
I reported this bug and if you wish, you can vote for it to grab attention.
Jump to answer
10 Replies
10