Explorer
,
/t5/lightroom-classic-discussions/main-images-folder-appears-twice-in-folder-list/td-p/10176283
Nov 06, 2018
Nov 06, 2018
Copy link to clipboard
Copied
Today I noticed that there is now a duplicate of the folder where I store all my images (it was not there on Friday when I shut down). While it shows there are 22849 images, the duplicate folder (top" LR images") lists only the last two subfolders (1809 & 1810). I checked my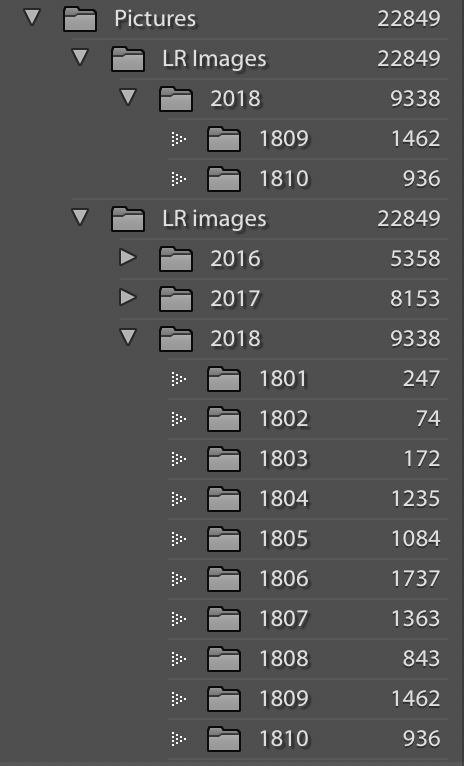 On my HD, there is only one LR Images folder, so I have no idea where LR decided to pick it up.
I'm on a new iMac running OS 10.13.6 (High Sierra). My version of LR is 8.0.
I'm afraid to delete the top LR Images folder for fear that it will delete the lower one as well, since they must be one and the same.
What the heck is going on and how can I rectify this?
Community guidelines
Be kind and respectful, give credit to the original source of content, and search for duplicates before posting.
Learn more

1 Correct answer
This is a well-known problem, called the 'Capitalisation problem'. Basically, what happens is that you have two different folders, one called 'XXXX' and the other one called 'xxxx'. In other words, the names are the same, except for the capitalisation. Because MacOS and Windows are case-insensitive, your OS sees those two folders as one and the same folder and so it deals with this without you even being aware of it. You will only see one version. But Lightroom is case-sensitive, so Lightroom do
...
Jump to answer
5 Replies
5