Community Beginner
,
/t5/lightroom-classic-discussions/photos-not-showing-in-library-folders/td-p/9787504
Mar 12, 2018
Mar 12, 2018
Copy link to clipboard
Copied
Hey all,
I'm using Lightroom CC classic on a Mac. I would consider myself a fairly adept Lightroom user and recently installed the Enfuse plugin to merge bracketed images. It was just the trial version and I left the default options in place but also selected "reimport files to lightroom" as well. The plugin seemed to run successfully and reimported the new file, however, all of my other folders dating back to 01/01/2018 are greyed out and have a zero indicating the number of files. I freaked out and quickly checked in my finder to see if the files were missing, but they were all in tact.
I have enabled photos in subfolders, library filters are not enabled, and I have made sure to unstack all images. I have tried re-imorting the files, but they all show up greyed out in the import box indicating that they have already been imported. I have tried some of the recommended options for similar problems by copying the content and trying to redirect the folder location, as well as simply pointing the directory somewhere else and then pointing it back to the correct folder. The photos still show up under "All Photographs" just not under the dated folder or any place else. I have been able to create an alternate catalogue from an older backup and import the missing files, but obviously, all the processing work on the re-imported files is lost.
Has anyone ever experienced something like this before? I suspect the images were double imported or something when I ran the Enfuse plugin, but don't know why it would have done it to all my images. I'm just baffled as to why Lightroom cannot recognize the files within the dated folder structure, what caused it, and how to resolve the issue.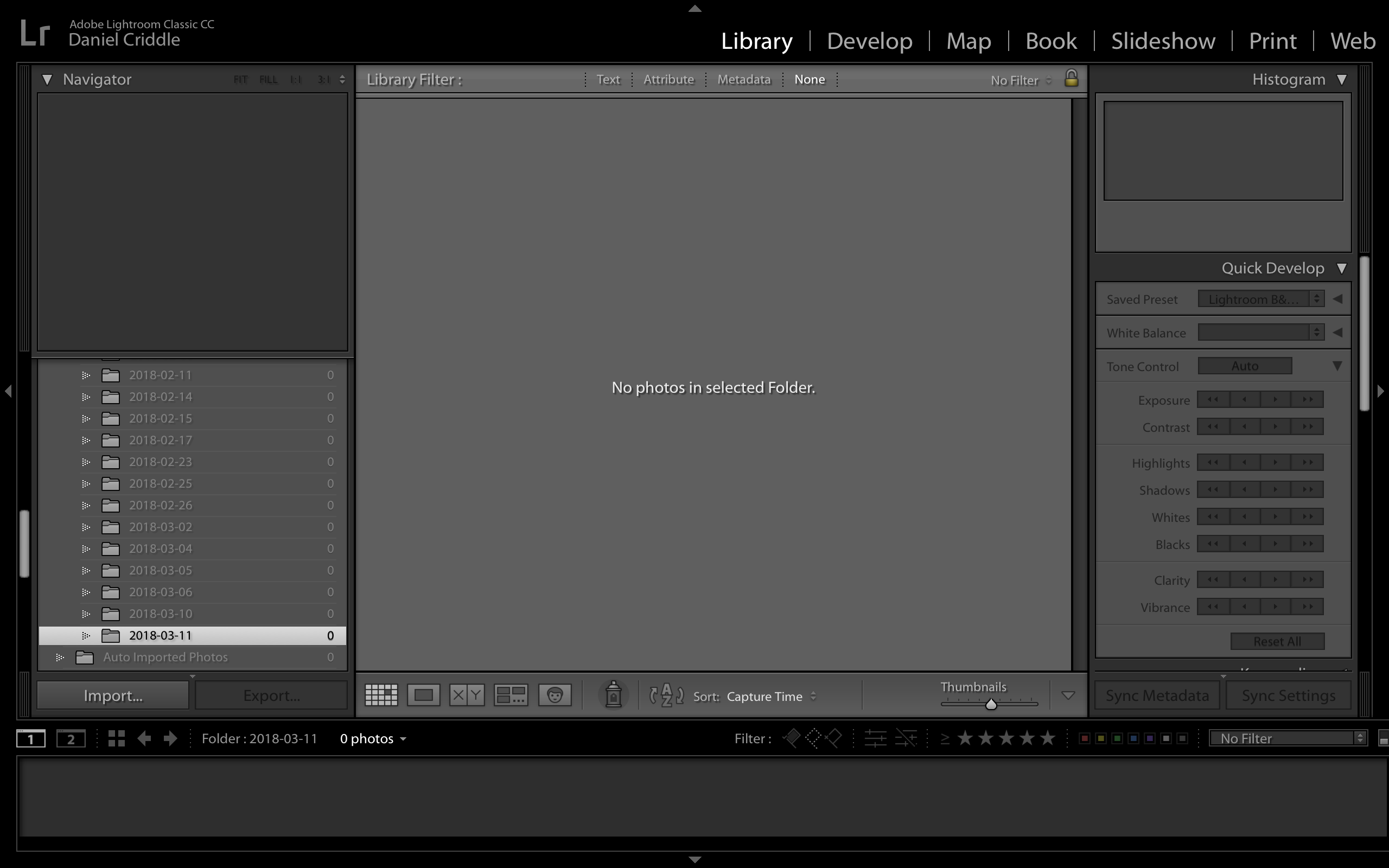 Community guidelines
Be kind and respectful, give credit to the original source of content, and search for duplicates before posting.
Learn more

1 Correct answer
Thanks for all the replies. Errors were given when trying to locate, update, hide or show parent files, so none of the trouble shooting steps for the capitalization error resolved the issue. However, I found this other recent thread and it seems like his issue was similar to mine. "no photos in selected folder" unique constraint failed I fixed it by loading and re-optimizing an older catalog and then importing the missing photos and settings from the previous catalog. Pretty sure the lrcat file
...
Jump to answer
16 Replies
16