New Here
,
/t5/lightroom-classic-discussions/slanted-greyed-out-presets-in-lightroom-classic-8-2-1/td-p/10408144
Apr 30, 2019
Apr 30, 2019
Copy link to clipboard
Copied
Hi,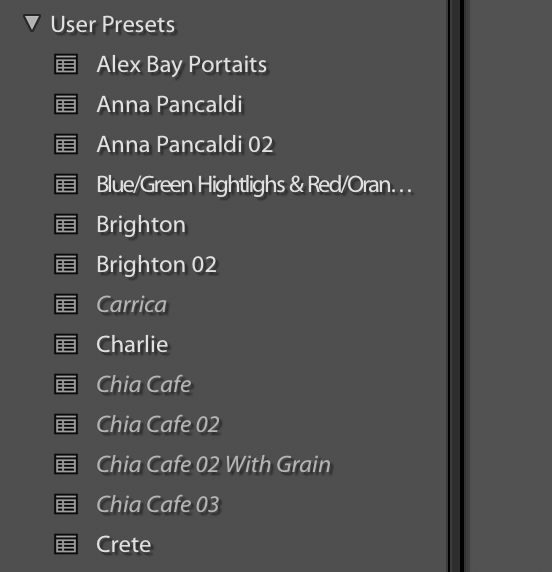 for some time now I've had a few of my user presets and purchased presets greyed out and slanted but only a few. They seem to be working ok but would like to get this fixed please. I have attached an image. You will see the presets that are greyed out. Can anyone help with this please? When I show in finder they seem to be XMP files so I don't really no the problem. Any help would be great.
Community guidelines
Be kind and respectful, give credit to the original source of content, and search for duplicates before posting.
Learn more

1 Correct answer
Italicized presets are "partially compatible". From
Lightroom Queen
:
On Windows, Mac and Android, there's a new Hide Partially Compatible Presets option. Partially compatible presets include settings that can't be applied to the current photo, for example, a preset may be designed to apply a profile that is only available for raw files from specific cameras. In previous Lightroom CC versions, the presets simply disappeared from view, causing some consternation. Now, with the Hide Partially Compa
...
2

2 Likes
Jump to answer
7 Replies
7