Hello, Since updating muse I have encountered a problem while trying to add images to the website. I have tried a couple of different methods but the result is the same. I get an error saying that the site should have 1 or less link with latest status which in itself is not an obvious error. Can someone please help?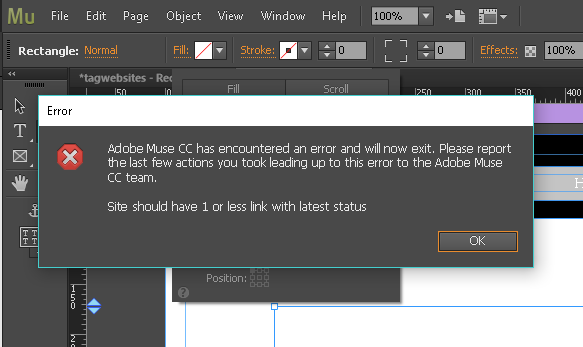 Community guidelines
Be kind and respectful, give credit to the original source of content, and search for duplicates before posting.
Learn more

1 Correct answer
I know this was a couple years ago, but I noticed some posts with this issue and no answers, so maybe this will help someone:My team and I had a similar problem with our site, except instead of "latest status," it said "site should have 1 or less link with type upload." We came across the issue when we tried to upload a file to Muse. We kept getting this error message. After a few attempts, we opened Muse and looked into our assets and found a couple files by the same name, none of which were be...
1

1 Like
Jump to answer
6 Replies
6