New Here
,
/t5/photoshop-ecosystem-discussions/error-16-on-photoshop-cs-5/td-p/2646694
May 02, 2010
May 02, 2010
Copy link to clipboard
Copied
Right, so after I installed Photoshop CS5 trial version, I get this error when I run the program: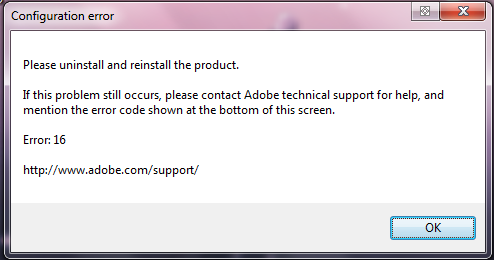 After I clicked OK on that message, I get this:
I didn't even install any weird language packs. All I have is Windows 7's Japanese and Chinese Languages from the Language Bar. I have tried uninstalling and reinstalling three times. Once without a restart, once with a restart and the last one with a restart, a CS5 cleanup tool and a registry clean. All same error. I've even tried running it as XP compatiblity and of course, ticked the "run as admin" box.
My computer specs are:
Intel i5-430M 2.27GHz
4GB of RAM
Windows 7 32-Bit
ATi HD5730 1GB VRam.
I've contacted live support, and this is what I get: http://pastebin.com/XhrQTemV
Thanks.

Community guidelines
Be kind and respectful, give credit to the original source of content, and search for duplicates before posting.
Learn more

1 Correct answer
I've spent many frustrating hours serarching all over trying to find a solution to this one and although I'm on Windows XP, today I finally fix it.THis is for WindowsVista/Windows 7 but I got enough from it to fix the problem on Windows XP tooSo here goes1. Choose Start > Computer > Organize > Folder And Search Options, and then click the View tab. 2. In the Advanced Settings section, deselect the Use Sharing Wizard (Recommended) option and click OK. 3. Navigate to \Program Files\Common Files\Ad...
1

1 Like
Jump to answer
34 Replies
34