Advisor
,
/t5/photoshop-ecosystem-discussions/sign-in-required-cs6-adobe-photoshop/td-p/4724360
Dec 19, 2012
Dec 19, 2012
Copy link to clipboard
Copied
This has been installed and working since just after CS6 released, now Photoshop won't launch it gives me this "sign in required" screen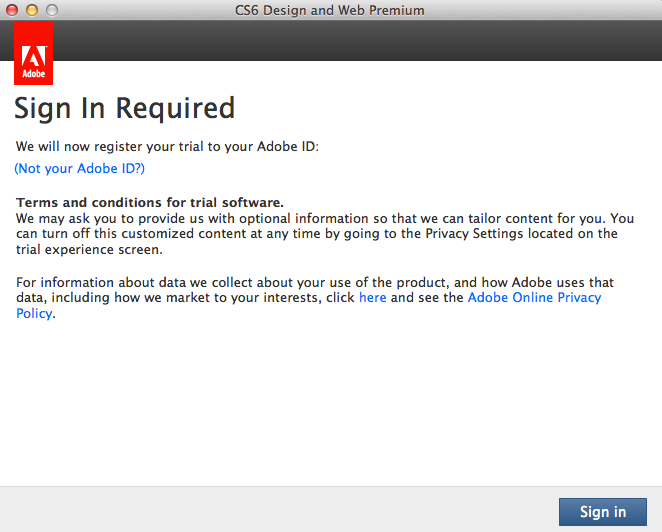 the only change to my OSX 10.7.5 system is I ran the recent Adobe updates
i bought CS6 directly from Adobe... i guess i could just click on some suspect mystery SignIn screen... strange
Community guidelines
Be kind and respectful, give credit to the original source of content, and search for duplicates before posting.
Learn more

1 Correct answer
We are sorry to hear that so many of you are hitting issues. It appears that one of the licensing files was corrupted during the recent update. We are working on a fix right now but in the meantime, you can workaround the issue by relicensing the software:


On receiving Trial/Trial Expired screen
Make sure that you are online
Click on license this software
Creative Cloud members: Log in with Adobe ID which has subscription
Perpetual product owners: Log in with adobe ID and enter product serial number
...
Jump to answer
28 Replies
28