Lumetri LUT presets selector not viewable with external monitor
Participant
,
/t5/premiere-pro-discussions/lumetri-lut-presets-selector-not-viewable-with-external-monitor/td-p/9814764
Apr 24, 2018
Apr 24, 2018
Copy link to clipboard
Copied
Since this month's 2018 update I'm struggling to select a LUT from the Lumetri window when using an external monitor. The LUTs are there but it's a GUI issue.
With a monitor connected and program monitor on USB-C to Display port, when I click on 'input LUT' the options come up similar to the way they used to. The problem is that the top ones disappear behind the program monitor in the second screen and no amount of scrolling is going to get you to the top ones. Even if I select a layout not using the second monitor, the same occurs with the top few just disappearing off into nowhere. The same happens when selecting the 'Creative' options below, made slightly less troublesome by using the combination of the select tick box or the left right preview.
It's super irritating and makes colour correction a slow and laborious process. Most of the time I select a corrective LUT in the Basic section and play with Creative for the look but I'm currently working on a project where I'd like to 'force' a look in the Basic section then play with Creative options.
I know that on a Mac, toggling the 'displays have separate spaces' option in Mission Control can help but it makes little difference except changing the saved layout a tad.
Anyone else having this issue before I file a Bug Report?
Working on a MacBook Pro late 2016 Touch Bar model with Radeon Pro 460. All OS and Adobe elements up to date. External monitor probably isn't relevant but it's an Acer CB241HQK if it makes any difference. Problem persists in slightly different form with monitor disconnected.
EDIT: Image is part of my work area across 2 screens. See the issue midway up, right hand side: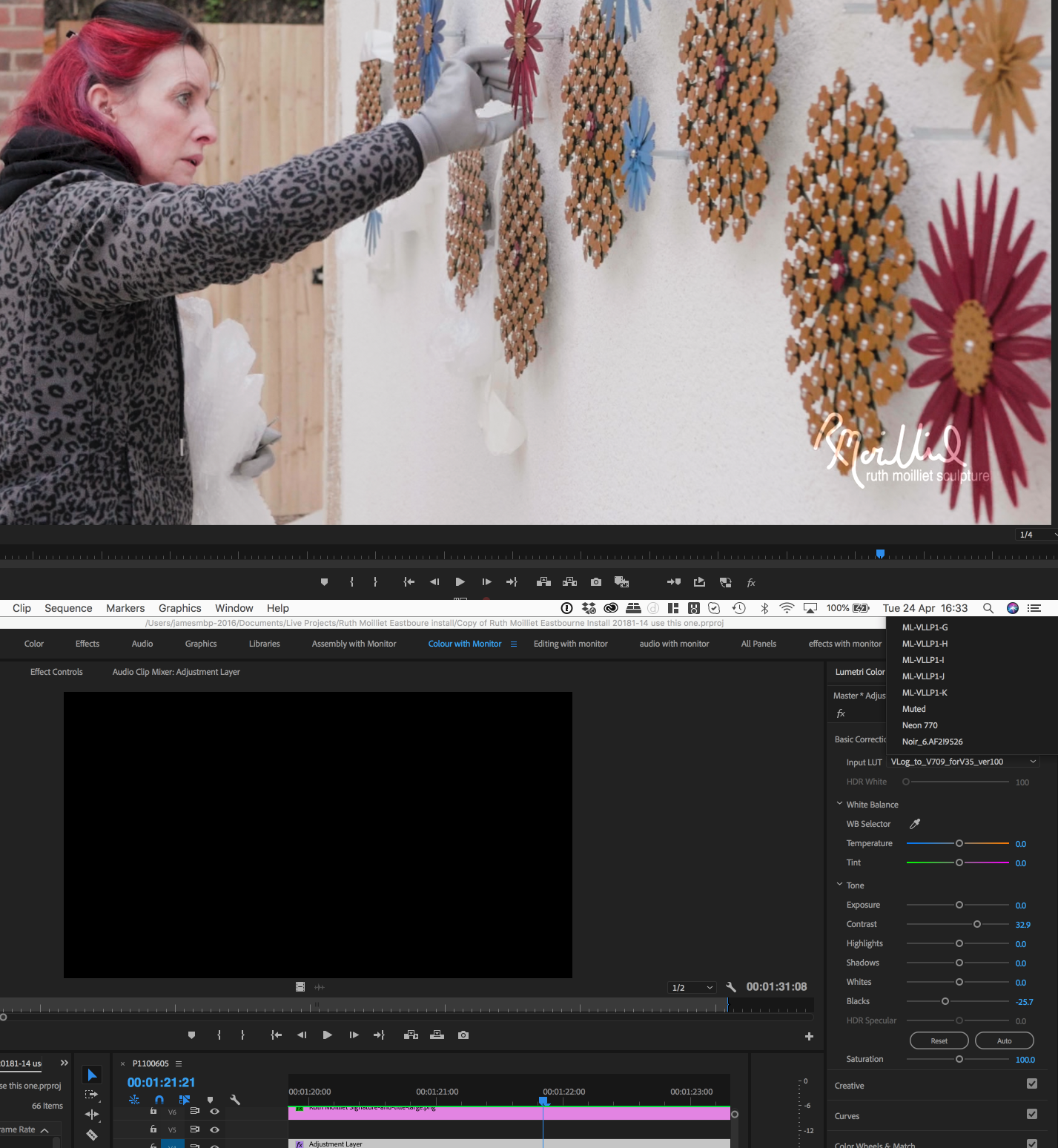 Community guidelines
Be kind and respectful, give credit to the original source of content, and search for duplicates before posting.
Learn more
5 Replies
5