Community Beginner
,
/t5/premiere-pro-discussions/premiere-pro-12-1-1-rotated-media/td-p/9872955
May 23, 2018
May 23, 2018
Copy link to clipboard
Copied
I am editing a project shot on an Arri Alexa Mini. Last week, after a 12 hour day of editing, Premiere crashed. When I reopened, Premiere has started displaying all of my steady cam shots vertically, and showing their frame sizes as reversed.
All of the images in this bin should be the exact same frame size. It seems that all of the shots that are incorrectly sized were shot with sensor flipped in camera. The properties for each shot shows correctly, but the video info column shows incorrectly.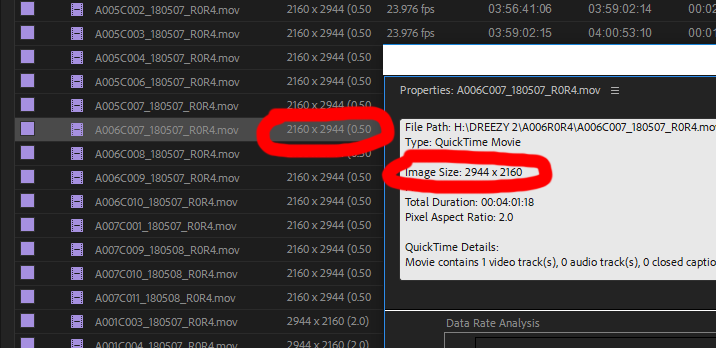 This is very frustrating, especially since everything was working properly before Premiere crashed. I've tried several different copies of the footage on 2 different computers, with the same result. When exporting the timeline into Resolve, everything looks as it should. This is very frustrating. I have so many speed ramps and have done so much color grading in Lumetri that its now counterproductive to move to Resolve. I am able to rotate the footage but I now have less pixels so I have to export the timeline at a lower resolution than what it should be. I had two different Adobe techs remote into my machine, but with all due respect, it seemed they knew less about how to resolve the problem than I did. Any help would be greatly appreciated.
Community guidelines
Be kind and respectful, give credit to the original source of content, and search for duplicates before posting.
Learn more

1 Correct answer
0

Like
Jump to answer
16 Replies
16