Preview does not pay attention to conditional text definitions (RoboHelp HTML)
Community Beginner
,
/t5/robohelp-discussions/preview-does-not-pay-attention-to-conditional-text-definitions-robohelp-html/td-p/8166174
Mar 14, 2016
Mar 14, 2016
Copy link to clipboard
Copied
In RBH 11.04.291, I am previewing a topic with two type of conditional text using the binoculars. I set the Conditional Build Tag Expression to one or the other, but regardless of my selection, the other conditional text remains.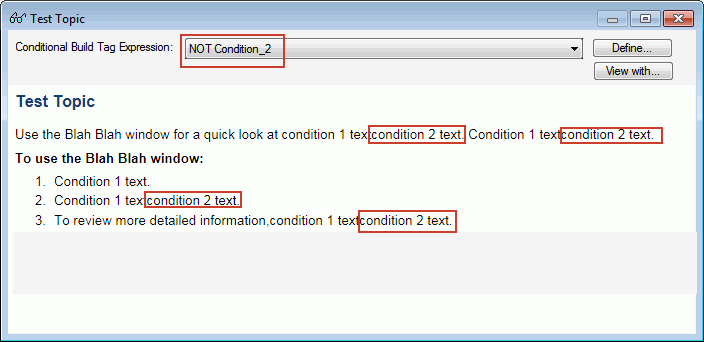 I've also tried using the Advanced build expression (instead of Not Condition_2, using Condition_1) with the same results.
I previewed in Chrome, IE, and Firefox. Also the same results.
Community guidelines
Be kind and respectful, give credit to the original source of content, and search for duplicates before posting.
Learn more
7 Replies
7