Explorer
,
/t5/robohelp-discussions/rh-2015-rh-10-search-results-not-prioritizing-properly/td-p/8269048
May 09, 2016
May 09, 2016
Copy link to clipboard
Copied
I created my project in Rh 10 and recently migrated it to Rh 2015. The problem I am describing has been present in both versions in exactly the same way.
I have a topic called "PCAP Files" (pcap_files.htm). I would like it to be the first result when the user searches for "pcap," but it is not: it's always 9th or so, as shown: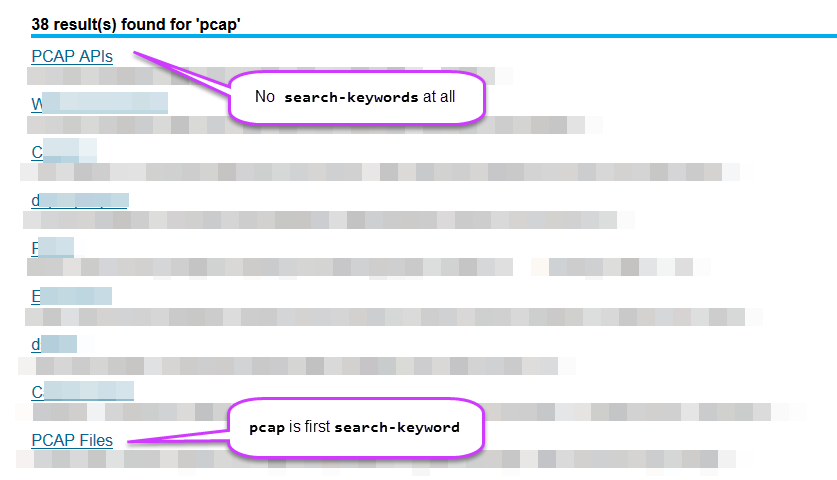 I have "pcap" and "pcaps" in the search keyword list for the "PCAP Files" page and no search keywords for PCAP APIs (which is always listed first). Those other topics in between either do not contain "pcap" in the search keyword list, or they do but "pcap" is not in the title, filename, nor TOC entry.
How do I make sure that the "PCAP Files" topic is first or second in the search results?
Community guidelines
Be kind and respectful, give credit to the original source of content, and search for duplicates before posting.
Learn more

1 Correct answer
Hello againUnfortunately, I've never read anything official from Adobe on this. What I'm sharing in this thread is simply what I've personally learned by simple experimentation. So if no topics have pcap and one does, of course it should be the only one found.If pcap appears 1,000 times in the body text of one topic but appears only ONE time in another topic but it's in a heading, that topic will be listed first.And what seems to trump all is the existence of the term in a Topic Title. There may...
0

Like
Jump to answer
22 Replies
22