RH2017: External Sites in TOC Open in New Browser Window
Explorer
,
/t5/robohelp-discussions/rh2017-external-sites-in-toc-open-in-new-browser-window/td-p/10452332
Apr 09, 2019
Apr 09, 2019
Copy link to clipboard
Copied
I've created several TOC pages that link to remote URLs. I need these remote pages to open within the topic frame of the online help so the TOC is still available. After specifying the remote URL to which the TOC entry should point, I clicked the Advanced tab and selected Same Frame.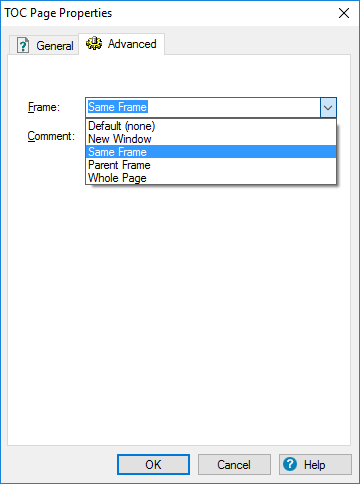 According to the RH2017 online help, selecting this option "Opens the topic in the same frame as the current topic." However, when I generate the project and click the TOC entries for these pages, the remote URLs open in a new browser tab/window instead of opening within the topic frame. Additionally, the HTML code for the <a href> in the TOC entry does not specify a target.
Is this is a bug (I recall being able to have remote URLs open within the help topic window previously), or is there something I'm overlooking in this process?
Community guidelines
Be kind and respectful, give credit to the original source of content, and search for duplicates before posting.
Learn more
16 Replies
16