Twisties Triangle Image Color on Hover?
Enthusiast
,
/t5/robohelp-discussions/twisties-triangle-image-color-on-hover/td-p/9310320
Sep 25, 2017
Sep 25, 2017
Copy link to clipboard
Copied
RH 2017 (13.0.279)
Primary Output: Html Help (CHM)
Hi Folks,
We use twisties in our help project. These are the little triangle images that point downwards and to the right when you expand or collapse dropdown text.
Is there a way to get the output to show a different triangle image on a mouse-over? You can see in these dropspot links that we use a gray mouse-over color for the hover text. But the collapsed triangle and the expanded triangle for the twisties don't ever change on a hover.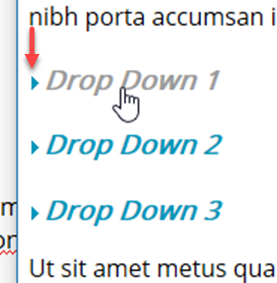 I know it's a minor thing, and if it's not too much work, we would like to implement a third triangle color whenever we hover over the text so that it matches the text's hover color.
Here's part of our style sheet code. Yellow highlight deals with the current images we use in the twisties. The red arrow points to where we're defining the hover color: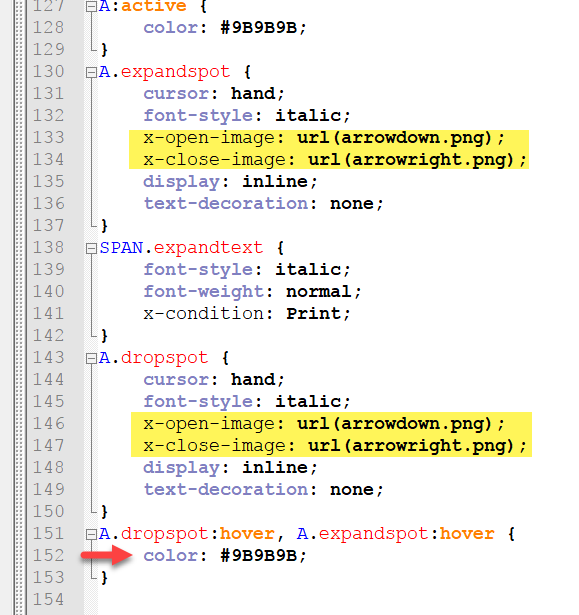 However, I suspect the issue is more javascript related than CSS related, especially so for a .chm output. Has anyone ever done this with their twisties?
Community guidelines
Be kind and respectful, give credit to the original source of content, and search for duplicates before posting.
Learn more
5 Replies
5