New Here
,
/t5/robohelp-discussions/twisties/td-p/8482871
Jul 19, 2016
Jul 19, 2016
Copy link to clipboard
Copied
Hello,
I'm using RoboHelp 11, publishing WebHelp Pro to RoboServer 9. Viewing output on Chrome and IE 11.
I have been trying to figure out how to build twisties into my project for drop down hotspots. After struggling with it all day yesterday I gave up. Then today a reviewer sent me some revisions by copy/pasting from the published webpage to a word document. In this word doc I could see the twistie images. So I went to replicate this myself - copied a dropdown hotspot from the website and pasted into word, and the twistie image was there.
I then generated the SSL and viewed it before publishing - still no twisties visible.
Here are examples:
This is the Published web page, the arrows point out where twisties should be. I did notice a javascript message when hovering over the drop down - maybe this is the issue?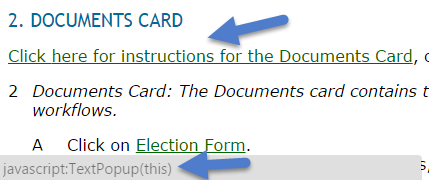 Same section Copy/pasted into Word - red arrows pointing out the twistie images I chose yesterday:
And finally, this is screen shot of the same content inside the project file in Robo:
Any ideas of what is going on here or some troubleshooting steps to take?
Thanks!
Chris
Community guidelines
Be kind and respectful, give credit to the original source of content, and search for duplicates before posting.
Learn more
5 Replies
5