Twisty image not "twisting"
Adobe Community Professional
,
/t5/robohelp-discussions/twisty-image-not-quot-twisting-quot/td-p/9578721
Jan 03, 2018
Jan 03, 2018
Copy link to clipboard
Copied
Hi guys,
Just wanted to find out if people using RH2017 are experiencing this problem (I'm on RH11, Multiscreen HTML5).
Conditions: Output contains dropdowns with Twisties enabled, skin/screen layout includes Highlight Search Results checkbox.
1. Search for a word that occurs inside a dropdown.
2. Select the Highlight Search Results checkbox.
3. Click the search results link for the topic with a dropdown.
Can you confirm that the twisty image is not "twisting" when the dropdown is opened because of search highlighting? That is, it is still in the "closed" position, even though the dropdown text is displayed?
e.g. In the image below:
"Tip" shows a closed twisty image and the content is not displayed (search term is not in the dropdown text).
"Entitlement" shows the closed twisty image, but the content is displayed because 'care' is highlighted from the search.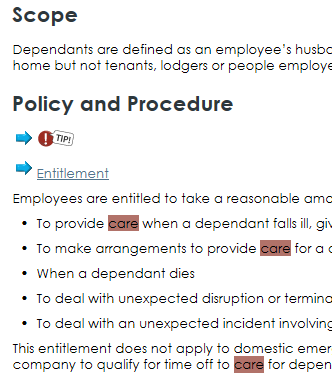 I've quickly tested Multiscreen HTML5 and Webhelp in RH11 and see the same behaviour in both outputs.
Many thanks
Community guidelines
Be kind and respectful, give credit to the original source of content, and search for duplicates before posting.
Learn more
7 Replies
7