bonjour
ma première photo a été rejetée avec le motif: violation du Code de la propriété intellectuelle.
Je ne comprends absolument pas pourquoi: c'est un chateau de sable que j'ai réalisé cet été sur une plage, pas de signe distinctif, pas de personnes ou de marques sur l'image !
Merci de vos réponses.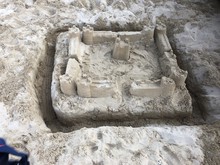 Community guidelines
Be kind and respectful, give credit to the original source of content, and search for duplicates before posting.
Learn more

1 Correct answer
It's a fair point you make. If this were a sand castle created in a competition or an elaborate piece of art that was clearly recognizable then yes, for sure a release would be required. This particular sand castle is more like an arts and crafts piece. Graffiti is different because it is generally on a building or object that provides additional context for where it is and who created it. This could be anywhere, made by anyone. It's a subjective process and it's likely we are both right. -Mat
1

1 Like
Jump to answer
5 Replies
5