The rejection reason is: Similar file already submitted (I have no file like this one)
New Here
,
/t5/stock-contributors-discussions/the-rejection-reason-is-similar-file-already-submitted-i-have-no-file-like-this-one/td-p/9203955
Jun 14, 2017
Jun 14, 2017
Copy link to clipboard
Copied
Dear all,
I just received and email said that "The rejection reason is: Similar file already submitted" while I do not have the wood background in my portfolio at all.
What should I do in this case? I do not really understand this rejection reason. It confuse me very much.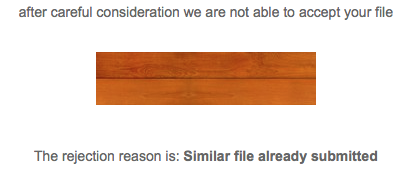 [Moved out of the critique forum and into the support forum - moderator]
Community guidelines
Be kind and respectful, give credit to the original source of content, and search for duplicates before posting.
Learn more
8 Replies
8