LEGEND
,
/t5/using-the-community-discussions/extra-long-edit-boxes-in-ie9-now/td-p/4457327
Aug 29, 2012
Aug 29, 2012
Copy link to clipboard
Copied
Once again, something's different.
It's not "broken and I can't get squat done" different, just "annoyingly" different.
Start a new discussion, or edit a post and find the edit box particularly long. Here's a zoomed-out screen grab of this particular one I'm typing in right now, as shown in Internet Explorer 9.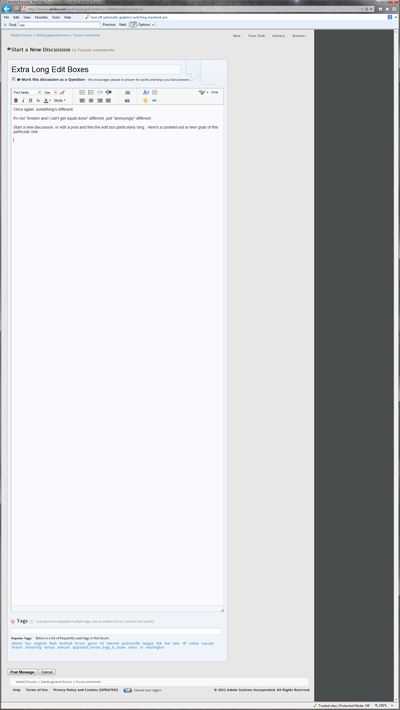 It doesn't seem to do it in FireFox, but who knows what cache is in need of refreshing.
This forum presents something new to shake one's head at every week. If only it could be a GOOD something, and the head shaking a nodding action. Maybe one day...
Alas, I guess I'll delete my cached files and see if it clears up.
-Noel
Community guidelines
Be kind and respectful, give credit to the original source of content, and search for duplicates before posting.
Learn more

1 Correct answer
Just installed Win7 and IE9 on my machine today and I don't see that.Did you, at some point, resize the box while composing a message? The size of the box is supposed to be remembered between sessions. Try shrinking it down and see if it remembers the new smaller size.
0

Like
Jump to answer
5 Replies
5