Not taken to the last post...
LEGEND
,
/t5/using-the-community-discussions/not-taken-to-the-last-post/td-p/3884635
Dec 12, 2011
Dec 12, 2011
Copy link to clipboard
Copied
When I want to report spam, I use a bookmark that takes me to the first message in the Spam forum. If I click on the "Reply" button of this first message, I get the box for writing my report, but the "last" message above it is #49. not the #282 which is the last at the time of wrinting this: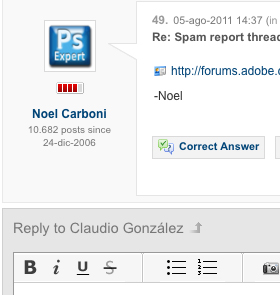 When posted, my report appears where it should, but this is annoying. I have observed this for some time now -at least for some weeks- but I had not noticed how annoying it is until Sunday, when I had to post many times there.
This happens in Firefox/Mac, but I have just checked and it also happens in Safari/Win 7. And it also happens in other long threads: trying to reply to their first message takes me below message #49, not below the last.

Also, if I click on the Latest Reply button instead, I am at least taken to the last page of the thread, but not to the last message.
Anyone else?

Community guidelines
Be kind and respectful, give credit to the original source of content, and search for duplicates before posting.
Learn more
7 Replies
7