Locked
Community Beginner
,
/t5/video-hardware-discussions/gpu-render-error-nvidia-gtx-1080-premiere-pro-cc-2017/td-p/8805050
Jan 07, 2017
Jan 07, 2017
Copy link to clipboard
Copied
Hi everybody,
Recently we switched from a Mac Pro (Late 2013) to a Windows PC.
Here are our specs:
Asus X99-A II
Intel Core i7-6900K
Asus GTX 1080 STRIX GAMING NVIDIA 8GB D5X
64 GB Corsair D432GB 2400-16
Unfortunately everytime we want to render our sequence in Premiere we get the following GPU render error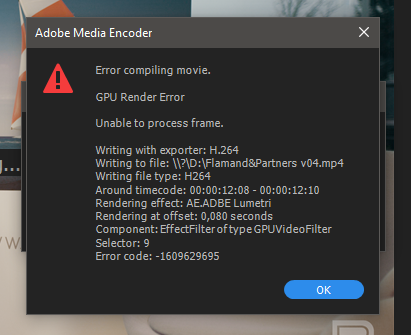 We tried rendering the sequence in 1080p or 4K.
Different formats like H264 and Quicktime. CBR, VBR 1, VBR 2, nothing really helps.
Old an new Nvidia drivers etc..

We literally tried everything.
The weird thing about this GPU error is that the point of failure is always somewhere else.
The footage we are editing is from our RED Epic-W mostly shot in 6K or 8K RAW.
Our composition is 3840 x 2160.

We used different dynaminc links between PR and AE, some with the RSMB plugin.
Setting RSMB to render by CPU instead of GPU doesn't help either.
We can render the sequence in three different parts and then combine them together.
But thats a big waste of time.
I can't imagine that one of the most popular graphic cards is not supported by Adobe.
We've run a few benchmarks to stress the GPU (FurMarck, Valley Benchmark, etc).
The GPU usage was 100% for a few hours, it stayed very cool at 57° and didn't fail at all.
Does somebody have the same problem? Any idea how can we solve this?
Thanks in advance.
Greetings,
Thibaut De Winter
Community guidelines
Be kind and respectful, give credit to the original source of content, and search for duplicates before posting.
Learn more

1 Correct answer
Folks,Just wanted to remind everyone the best action if you are experiencing this issue. Please visit NVIDIA.com/drivers to download and install the 378.49 driver. We posted this January 24, 2017. If you are still seeing this problem, please send me a DM and we will capture your repo details.
3

3 Likes
Jump to answer
47 Replies
47