Community Beginner
,
/t5/adobe-xd-discussions/quot-windows-cannot-find-powershell-exe-quot-error/td-p/9508651
Dec 06, 2017
Dec 06, 2017
Copy link to clipboard
Copied
Used to have Adobe XD installed on my Windows 10 PC for the past few months until I had to use it again, and realized I couldn't find it in the task bar or start menu.
Upon opening Creative Cloud app, it says "install" rather than open, meaning it was removed without my knowledge and I had to redownload it.
The main issue comes from being unable to update or install it because of the screencapped error below.
Any ideas of how to fix this?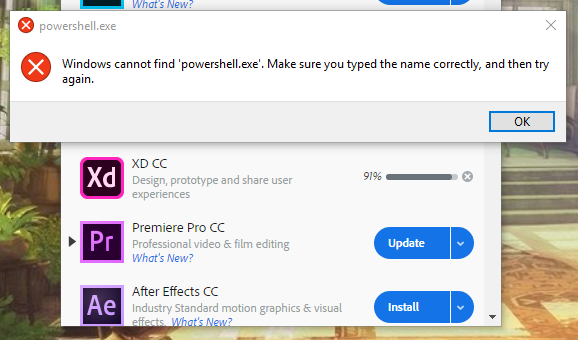 Community guidelines
Be kind and respectful, give credit to the original source of content, and search for duplicates before posting.
Learn more

1 Correct answer
About Powershell.exe Powershell.exe is a new and very harmful compute virus detected as Trojan. It is one such very devastating computer virus which can compromise your system severely. Well, it has been programmed the professional cyber criminals and mostly target Windows OS based computers.
1

1 Like
Jump to answer
4 Replies
4