Community Beginner
,
/t5/after-effects-discussions/creating-an-infinite-zoom-with-just-one-scene-image/td-p/13442402
Dec 23, 2022
Dec 23, 2022
Copy link to clipboard
Copied
Hi, I'm looking to create an "infinite zoom" but it's just an endless loop of one location/scene. When I searched for tutorials and help on this, all I could find is a zoom through multiple scenes/images/locations, which is not what I'm looking for.
What I'm thinking of is something more like this :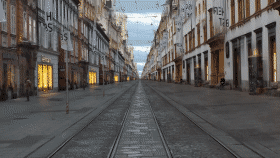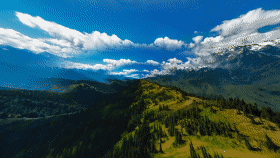 I found an infinite hallway tutorial where you build a 3D box of sorts using a photo and perspective tools, but I don't know if I can do that with nature or city scenery like the above GIFs.
Community guidelines
Be kind and respectful, give credit to the original source of content, and search for duplicates before posting.
Learn more

1 Correct answer
Open the image in Photoshop. Pick a section of the image that you can repeat, create a layer mask to remove the background part of the foreground section you are going to repeat, Then scale the bottom copy down and do whatever retouching you need to do to create a nearly invisible seam between the repeated section and the original layer.
Import this image into AE, make the layer 3D, animate the camera so that it moves straight in on the image until you get to the same framing as the duplicate
...
Jump to answer
3 Replies
3